I recently discovered this recipe and made it for the first time this week. And let me tell you, it was SUPER yummy. Also, though it does technically use 2 pans + crockpot, it was really easy. So it qualifies for the linkup in SPIRIT.
I adapted it very slightly from
here
. And also used their photo.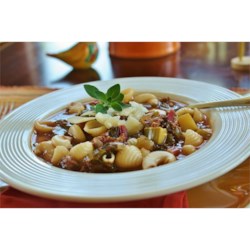 Slow-Cooker Italian Sausage Soup
Ingredients:
2 pounds Italian sausage (we used mild, but feel free to increase the spice factor to your taste)
2 cloves garlic, minced (or 2 teaspoons of pre-minced garlic from the jar)
2 small onions, chopped
2 (16 oz) cans diced tomatoes (with juice)
1 1/4 cups dry red wine
2 (14.5 oz) cans beef broth
1/2 teaspoon dried basil
1/2 teaspoon dried oregano
1 teaspoon dried parsley
2 zucchini, sliced
1 green bell pepper, chopped
1 (16 oz) package pasta of your choice (to add later) - we used tricolor rotini
In a large skillet or pot, cook the sausage over medium heat until brown, breaking it up with your spoon as it cooks.
Once it's brown, if you like, you can remove it from the pan and drain it on paper towels, drain most (but not all) of the fat from the pan, and return the sausage to the pan. (I skipped this step.)
Add the garlic and onion to the pan and cook for 2-3 minutes, until softened & translucent but not browned. Stir in the tomatoes, wine, broth, basil, oregano, and parsley, and simmer for 5-10 minutes.
Transfer to the slow cooker. Add the parsley and green pepper and stir it all together. Cook on low for 4-6 hours (though I suspect you could let it cook all day-- soups are pretty hard to overcook).
Right before dinner, cook the pasta in boiling water until al dente. Drain the pasta, add to the soup in your slow cooker, and stir. Taste it and add salt and pepper if you want to. (We didn't. The sausage made it so flavorful that it was delicious as-is.)
Yum!!
I did all the work (chopping, browning, etc) the night before and put the filled crock in the fridge. Then in the morning all I had to do was let the crock sit on the counter for 30 minutes or so-- because you don't want to put a cold crock on the heat, it'll crack (no, I don't speak from experience)-- before putting it in the cooker and starting it. Woohoo! Dinner finished (except for the pasta part) by 8am!
I haven't tried this, but I suspect that the non-pasta ingredients would freeze reasonably well, so that this meal could be prepared beforehand to make your life even easier.
SPEAKING OF WHICH!!
Before Josie was born, we were about to graduate residency and move to Guam at the same time, so I was kind of in a freaking-out mode which manifested itself as preparing ALL THE MEALS. (I think it was my nesting instinct diverted away from preparing the house, since I couldn't do that because: international move.) So when I stumbled upon this website, all I could say was YES PLEASE:
I didn't do quite fifty, and I didn't do it all in one day, but I did make around thirty meals over the course of a couple weekends. All the ones I tried from her website were quite good. I also made Bolognese spaghetti sauce and green chili chicken enchiladas, both of which freeze well.
AND, do you know about
flash-freezing baked goods
? It's my favorite thing. You can have fresh-baked cookies or muffins or rolls, whenever you want, without doing all the work every time. (If you do muffins, I suggest using paper muffin cups, because otherwise the frozen uncooked muffins are super hard to get out of the tins so you can transfer them to a ziplock freezer bag. Yes, I do speak from experience here.)
Linking up with Housewifespice for her brand-new
One-Pot Wonder linkup
, running until June 22!